The nether bomb is the nether version of tnt. It is crafted like normal tnt, but with soul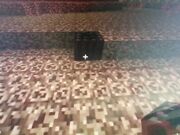 sand instead of normal sand. The nether bomb looks similar to normal tnt, but is a bit darker colored, and does not say tnt on the side. A special feature about the nether bomb is that it explodes instantly. Whether you hook a long chain of Redstone to it or light it on fire, it will still explode instantly. This can be really cool if you put a bunch of them next to each other, creating a huge bomb because they will all explode together instantly. Thenether bomb can be really useful for collecting magma crystals and for setting traps.
Ad blocker interference detected!
Wikia is a free-to-use site that makes money from advertising. We have a modified experience for viewers using ad blockers

Wikia is not accessible if you've made further modifications. Remove the custom ad blocker rule(s) and the page will load as expected.